BRRR! It's time to get frozen, haha! I sorta feel like Elsa writing this blog post and am so excited to share all about today's post with Cryo-X! Cryo-X is a very unique wellness center located in Grapevine, Texas that specializes in pain relief, athletic recovery, and pure relaxation. Cryo-X reached out to us on Instagram and wanted to know if we wanted to come visit and of course, I said yes. I have been wanting to try cryotherapy for years after hearing tons of great results and was so excited to finally try it out.
Click HERE to visit the Cryo-X website to learn more.
As soon as I walked into Cryo-X I was greeted by the friendly staff who were very knowledgeable and explained their services as well as answering all of the questions I had about cryotherapy. After explaining everything and getting checked in, I quickly went to go freeze for my whole-body cryo session! Cryotheraphy makes cool dry air flow over the surface of your skin which can bring the cryosauna to 200-300 degrees below zero. They gave me some slippers, socks, and gloves to wear as I was in the cryosauna. Of course, I picked the unicorn slippers! The cryosauna looks like a stand-up tanning bed with your head sticking up at the top. You can open the door if you need to at any time and you are never locked in the cryosauna. The staff member, Chandler, talked to me for the entire three minutes that I was in the capsule, which helped to pass the time as I was freezing. After experiencing cryotherapy, I felt very relaxed, refreshed, and energized! Plus, you burn around 500 calories with each cryotherapy session! The effects of cryo do not stop after the three minutes are up, they can last for up to 6-8 hours after. During cryotherapy, the skin reacts to the cold dry air which sends a message to the brain to pull blood away from your extremities into your core. This causes a boost of natural nutrients and oxygen to your organs. There are numerous benefits from cryotherapy such as pain relief, detox, and reducing inflammation. Click HERE to read more benefits about cryotherapy from Cryo-X.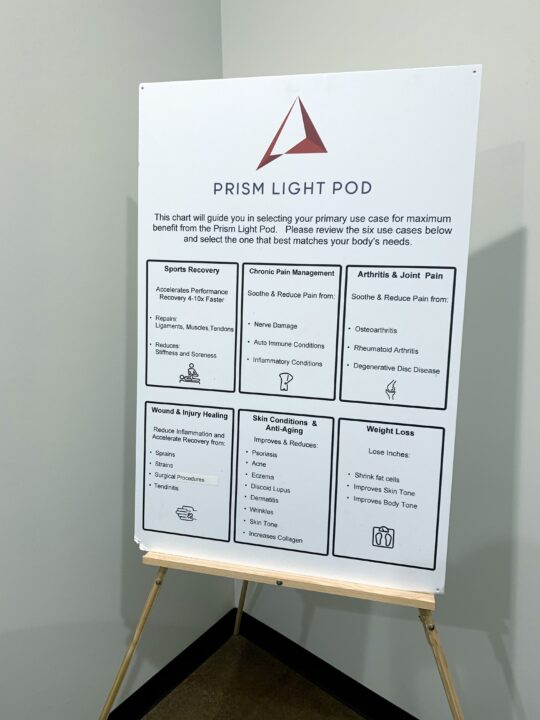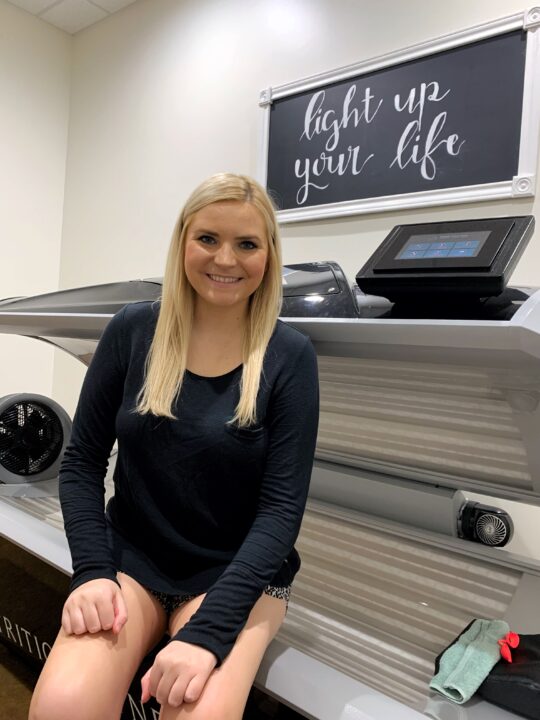 After freezing, I headed over to the Light Pod Therapy. This made me feel amazing and helped to warm me up after cryotherapy. During Light Pod Therapy, thousands of light beams penetrate the skin, which carries this treatment to each cell in your body to help speed up healing by 4-10 times the normal rate. There are tons of benefits from Light Pod Therapy. Check them out HERE.
Next up was a visit to the sanctuary theatre for leg compression therapy. This theatre had super comfy chairs for you to relax in as you got the compression massage, watched the video, and listened to the relaxing sounds. They also gave me a warm neck wrap to help me relax even more. I also had the oxygen treatment and the oxygen was scented, how cool! I picked for my oxygen to smell like mandarin oranges. Even though I was in Grapevine, Texas I definitely felt like I was in the sunshine state of Florida on the beach with the relaxing video, sounds, and smell because of the oxygen! 🙂 It was a nice little escape from reality.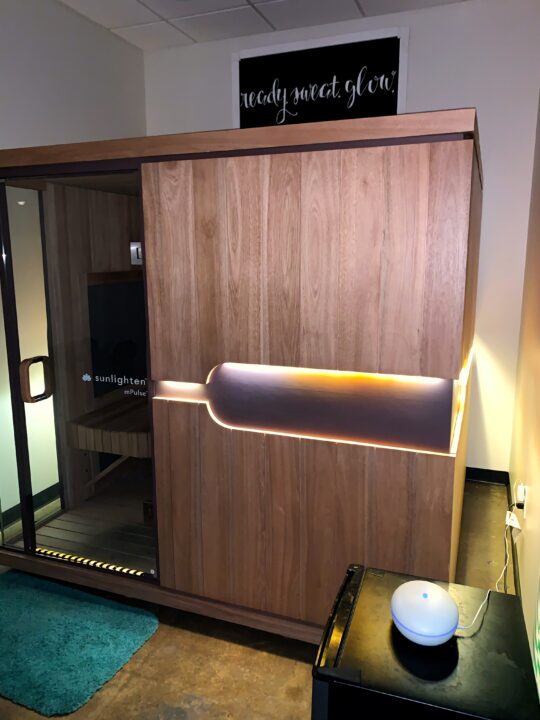 After the sanctuary theater, I went to the Full-Spectrum Infrared Sauna. The sauna is a great detox and you can burn 600 calories per season! Click HERE to read all of the befits from the Full-Spectrum Infrared Sauna. A few of them are to rejuvenate the skin, decrease pain, and improve circulation. I also got a chilly eucalyptus soaked towel which felt amazing after the sauna!
To finish off my visit at Croy-X I got a Cryo Facial! The cryo facial is self-serve and it was SO refreshing! It also made my skin radiant and gave it a good glow after.
Have you tried cryotherapy before?
I absolutely loved visiting Cryo-X and can't wait to come back soon! The staff was very quick to get back to your session with little to no wait time. Cryo-X was extremely nice and clean. I cannot recommend Cryo-X enough, definitely check them out if you are located in the Dallas/Fort Worth area. I am leaving their info below if you want to check them out! Be sure to tell them Kortney and Karlee sent you! 🙂
200 W Northwest Highway, suite 201 Grapevine, TX 76051
Thank you Cryo-X for having us! All opinions are our own.
XO, Kortney