This post is sponsored by Walmart but all opinions are our own.
The holiday season is in full swing, and I am sharing our Ultimate Walmart Christmas Gift Guide on the blog today! I have already purchased quite a few Christmas gifts this year from Walmart. Walmart is slaying the gift game y'all! One reason I love Walmart is because they are a one-stop-shop for all of your holiday needs at low prices! They have many fast and easy ways to get your gifts as soon as possible. I currently have been using their free curbside pickup and free 2-day shipping. They also offer same-day delivery for a small fee, which is free for Walmart+ members. Whenever I shop at Walmart, I don't have to spend any extra time looking for the best deal, because their prices start low and stay low all season long.
To find the best Christmas gifts for all of my friends and family, I have been using the "Gift Finder" tool on Walmart's website. It makes it so easy to find the perfect gift for your loved ones. You can self-curate gift idea results by sorting from different key filters such as the gift recipient, age, category, and price.
I know there have to be a few last-minute shoppers reading this post too, don't worry Walmart has the last-minute shoppers covered. You can order by December 23rd from Walmart for curbside pickup or delivery! 🙂
I went through tons of pages of gifts on the Walmart website and pulled my absolute favorites for our Ultimate Walmart Christmas Guide! There is something for everyone and at every price point.

I use my AirPods and Apple Watch on a daily basis! These are both great practical gifts that will get tons of use.

If you guys know me, I am OBSESSED with all things Sharpie! When I saw this Sharpie set I knew it was such a great gift idea! It comes with 30 different sharpies! Such a fun gift set for someone artsy. The packaging on this set is super cute too, you can spin the tray to see the 30 different colors of Sharpies.

This mini-fridge is quite possibly the cutest gift ever. It comes in 4 different colors and is only $24! It even has a USB plug so you can use it in the car…a great way to keep your lunch cool in the car or use it to store road trip snacks. It can hold up to 6 cans and would be perfect for a teacher or a good gift to give a coworker so they could keep this in their office. This mini-fridge would also make a great beauty fridge. That is how I am currently using mine and I love how it keeps my beauty products cool!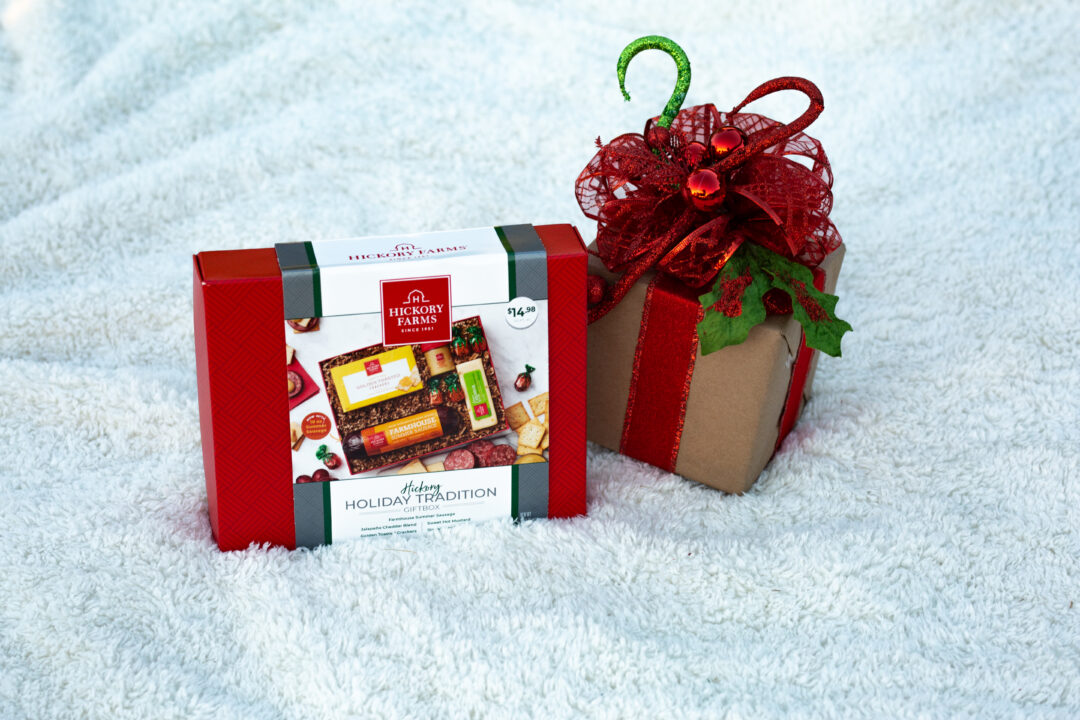 This box has everything you need to create the perfect snack! Need a gift for your meat and cheese lover? This is it! This Hickory Farms Holiday Traditional Gift Box would make a great gift for anyone who loves a snack with a little bit of spice! Any meat and cheese set like this are perfect to mail to a loved one that you can't spend the holidays with!

It's the perfect time of year to cozy up and make some s'mores! This kit has everything you need to make s'more! YUM! Have a foodie on your list this holiday season, this s'mores Cocoa Mug Gift Set is what I would grab for them.

Who doesn't love Oreos?! This kit has everything you need to dunk your Oreos! I love this set and the cute Oreo mugs that come with it! This is a fun and unique gift set to give anyone in your family.

I hope this post was helpful and you got some good gift ideas! You can shop all of Walmarts gifts HERE or check out their Gift Finder tool HERE. Walmart has such a great selection of gifts for everyone on your list.
Thank you so much to Walmart for sponsoring today's post!

XO, Kortney and Karlee